Bad Credit Car Finance
If you have a low credit score, you may find it more difficult to take out any type of credit, from a mortgage to car finance. But with bad credit vehicle finance, you can borrow money from a lender to cover the cost of a car, and then pay back in monthly instalments.
What Does Bad Credit Mean?
Having bad credit typically means you have a low credit score. There are various reasons for this, but for some people, it's due to late or missed payments on other loans and credit cards. And as this information stays on your credit report for around six years, even late payment from a few years ago could be affecting your credit score now. Other financial issues such as insolvency or bankruptcy are also reported on your credit file, as are County Court Judgements (CCJs), all of which can impact your score.
Another cause of low credit scores is not having a credit history. As lenders use your credit file to determine how you manage your money, if you've not taken out much (or any) credit in the past, they can't estimate the likelihood of you making repayments on time. Essentially, you often need to take out credit in order to borrow. This may sound like a Catch-22, but not all lenders require you to have much of a credit footprint before you borrow.
Types of Bad Credit Car Finance
Getting car finance with bad credit can be tricky. But even with a poor credit history or lack of credit footprint, you may still be able to apply for car finance. Many lenders understand that people across the UK rely on their cars, from getting to work to taking the kids to school. They therefore try to offer vehicle finance options to people regardless of their credit score.
One option is to take out an unsecured personal loan, and then buy a vehicle outright with the funds. However, this may not be the easiest option for those with bad credit, unless they are able to secure the loan against an asset like their home. Secured loans are typically easier to obtain than unsecured loans if you have a low credit score, as there is less risk for the lender. The downside is that if you're unable to keep to the repayments, there's a chance that your assets could be repossessed. 
There are also types of car finance available. With these agreements, you'd make monthly repayments, and the finance is secured against the vehicle. With some forms of vehicle finance, if the agreement is kept to, you'll automatically own the car once the term ends. With others, you'll have the option to buy the car outright at the end of the agreement, enter into a new agreement, or simply walk away. 
As vehicle finance agreements are secured loans, it is important to note that if you were to default on the monthly payments, the lender could have the option of repossessing your car. That's why it's essential that you budget for the instalments and other costs before taking out car finance.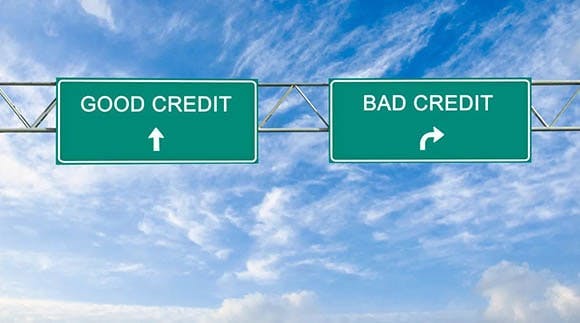 How to Get Car Finance With a Low Credit Score
A poor credit history can make getting car finance more challenging. But there are some lenders who specialise in bad credit car finance, who may be able to help even if you've been turned down elsewhere. You can also make sure you give yourself the best chance of success by seeing if you can quickly improve your credit score. For instance, if there are any mistakes on your credit report, this could be damaging your score. So perhaps request a copy of your full credit file from Experian, Equifax or TransUnion to check for inaccuracies.
The next step is to apply for car finance through a company like us, who only undertake soft credit checks. Our soft search won't impact your credit score, and will enable us to match you with one of our lenders, as well as give you an idea of the options available.
If you're accepted, and agree to the terms and conditions, the lender will then most likely perform a hard credit check. You'll need to give your consent for this, so there's no need to worry about it happening without your permission. And regardless of your credit score, a hard search is undertaken by most lenders.
Will Applying for Car Finance Impact My Credit Score?
It's important to understand how loan applications can affect your credit score before you apply. For instance, making too many applications in a short period of time can mean a lot of hard searches on your credit report, which in turn can lower your score. That's why it's beneficial to apply with a broker, as a soft search will be undertaken first, to determine your eligibility.
Overall, your initial application won't impact your credit score, but a hard credit check performed by a lender may do. This check will be taken into account by the lender though, so shouldn't affect your chances of car finance approval.
Will I Get Turned Down Due to Bad Credit?
While a poor credit rating can mean certain lenders refuse your application, if you've been turned down before, it may be due to other factors. These could include:
Applied for more money than you can afford
Applied over too short a time period
You were unable to provide a deposit
With the factors above, we'll assess your affordability and whether you're able to provide a deposit, and only put you in touch with lenders that can potentially help. And if you have bad credit, we'll make sure we match you with finance providers that will take more than just your credit history into account when making a loan decision. So getting car finance with bad credit doesn't have to be impossible!
What Credit Score is Too Low for Car Finance?
If you're looking for car finance with bad credit, you may be concerned if your credit score is very low. But there's no definitive answer to the question of what score is too low. Whether your application is approved or declined will depend on your personal circumstances and credit history. Just keep in mind that many lenders offer bad credit car finance, and will take more than just your credit rating into consideration when making a loan decision.
Lenders will often look at things like your employment history, as well as your income and expenditure when assessing your application. These things will show them your affordability, which will be taken into account, along with your creditworthiness. So even if you're applying for car finance with bad credit, Wheelie Good Finance may be able to help.
How to Apply for Bad Credit Car Finance
When it comes to applying for a car loan with us, there are just three simple steps! Firstly, our online application shouldn't take more than a few minutes to complete - we'll ask for things like your personal details, as well as your income and expenditure. Next, we'll compare the trusted lenders in our network, to see which one is the most suitable for you. Then, if your application is successful, you'll be told how much you're eligible to borrow, and you can pick out your new car!
And if you're applying for car finance with bad credit, you can rest assured that we work with many specialist lenders who will consider your application. You don't need perfect credit to take out a vehicle loan - all credit histories are considered! And if you're still not sure, you can always use our car finance calculator, to get a rough idea of what you can borrow. The calculator will also give you an indication of your monthly repayment amount - you can try out our car loan calculator for yourself here.